Cryo-Gen Vultures: WTRL TTT Premier League Espresso Class Race #67
1st Place, 41:40, 46.5kph
This race was the 13th week in a row for our great Captain Neill Ungerer, and for each of those weeks he had led calmly the Vultures through thick and thin, knowing exactly what each rider was able to give and when. All the while riding over 5w/kg for the duration of the ride, and each time not getting dropped. With Neill having a break for a few weeks we wanted to make sure this race was knocked for six. Given today's result it's understandable that Neill deserves the MVP award.
This was the first time the Richmond UCI Worlds Reverse Course had been used, so it was an unknown for us. Some advice from Felix after he had pre ridden it during the week had us expecting a tough one, and it was exactly that. When Felix says it's tough you know you're in for a brute of a race. He also suggested we take 30 second pulls for the first lap to help keep it together over the early climbs. This proved to be a great call!
Today we had the two new riders in the team, Martin Maertens (GER) and Bruce Raeside (GBR), both coming with some huge w/kg numbers to their name. The rest of the team consisted of Neill Ungerer, Felix Köhler ,Harry Mustard, Eddy Hoole ,Jack Polley and myself.
We knew we were in for a tough one, but the chat over Discord in the pre-start sounded confident and ready for a battle.
The nature of a Team Time Trial is such that you have to use each rider to the best of their capability at the time, and that you don't have to come to the line with a full team. As long as you finish with 4 riders riding strong and consistent, and have used the dropped riders as much as the team can, then that's the ideal execution. Today is the perfect example of that strategy in place.
Neill gave us the usual countdown, and as we rolled out of the pen we could hear him counting through the names in the group….1, 2, 3, 4, 5, 6, 7…."Come on Bruce!!" Unfortunately for Bruce, there was a slight lag in his trainer picking up, and when the team was already at 7w/kg off the line he was having to ride way over that to get back to us. He made it, but that had already done the damage and we lost him prematurely. Down to 7.
The first two punchy climbs come very early on, and Neill was calling for calm over these. Once on the flat we were settling nicely into our 30 second pulls at 6-6.5w/kg. The longer 4% climb ⅓ of the way through the lap was a real drag, but Felix paced us beautifully here, we made it over and settled in. Felix was the measure of control up here on lap 2 too.
As we rolled into the 2nd lap we hit the punchy climbs again and these began to hurt. I was dropped off just before the top of the second one, down to 6. Amazing effort by big Harry Mustard to get his 80kg over it with the lighter guys in the team…his strength and power was needed for the flat final few KM's.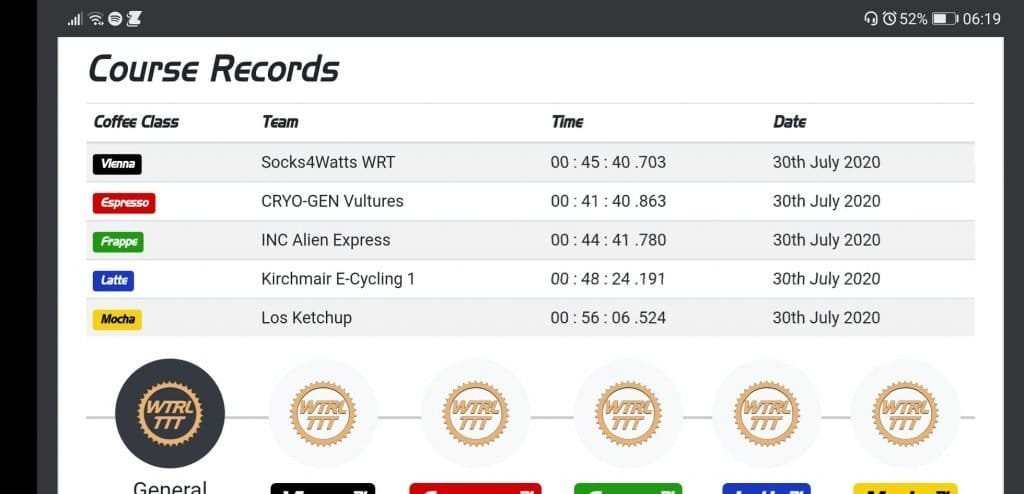 Jack was next to drop off. His job was done and he too had put in all he had, down to 5. The chat over discord from Neill was calming and controlled as he reshuffled the paceline with the team now down a few riders. Eddy dropped off with about 7km to go, and being a lighter rider he would have been working even harder to keep the power on, a huge effort from Eddy.
As the team reached 4km to go a new voice came over Discord telling us we had led at every time check (we still don't know who this was, but she was saying just what we needed to hear, as far as we all know it was the voice of an angel), whoever it was, thank you. Right, now the boys were really going all in. Now with 4 riders heading to the line, that was all we needed to finish, and there wasn't much chat going on from them, just encouragement from those of us who had been dropped and were able to talk.
And just like that, the race was over, power PR's all around too. We had won by 35 seconds which is a huge margin given previous weeks had seen some very close races. We had 4 riders crossing the line together, and that was what we needed to secure the win, a true team effort with everyone knowing they had done all they could, and we are all so thrilled to have been part of the winning team.
With it being a new course we now hold the course record. This is the first time the Vultures have won in the Premier League, and we are hungry for more.